As well as delivering strong returns, we are dedicated to
ensuring all our investments are sustainable and ethical
Our business is built on the principles of integrity, accountability, consistency and transparency.
Avelios is a proud signatory to the United Nations' Principles for Responsible Investment. This means each one of our investments is evaluated against a range of criteria, including the use of sustainable materials in construction, management of energy consumption, services and waste, and generally minimising environmental impact. Only opportunities that meet a minimum score are put forward for consideration, so our clients can rest assured that their investments are both ethical and sustainable.
Creating zero-energy buildings
A new generation of office buildings
In Switzerland, Avelios partner FREO is collaborating with architects Baumschlager Eberle to create buildings designed to regulate internal temperatures of between 22◦C and 26◦C without the need for heating, ventilation or cooling. The 2226 concept minimises use of technology, taking instead a design-led approach to sustainability. The development of the first building to use this concept is already underway in Switzerland and further similar projects are planned.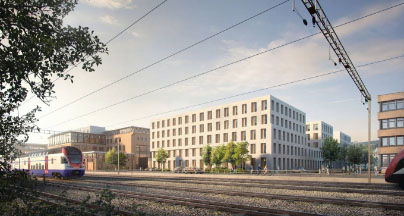 Source: www.jed.swiss; © Nightnurse Images, Zürich.