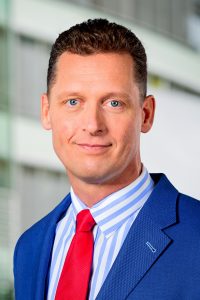 We are delighted to announce that Thomas Fiebig has joined Avelios Germany GmbH as Managing Director.
In April 2021, Avelios expanded into the German market with the founding of Avelios Germany GmbH to establish a presence in Europe's largest economy.   Avelios Germany, which will be led by Thomas, is the second operating entity within Avelios Group and will provide investment advisory and asset management services to investors in this large European market.
Thomas has nearly three decades of real estate investment experience and has executed over €3bn of transactions in this asset class.  Thomas was formerly a Managing Director of Talanx Immobilien during which time he established a new business line that delivered mezzanine finance to developers and was responsible for the global real estate and infrastructure investment business. He was also a Board Member of Talanx Investments.
Thomas has also held senior roles at ING Real Estate, Union Investment and a BaFin-regulated capital management (Kapitalverwaltungsgesellschaft) company based in Hamburg.
Commenting on his appointment, Avelios CEO Duncan Souster said "We are excited about our expansion into Germany after sustained interest from our clients to establish a permanent presence in this market. Thomas is ideally suited to lead our business and will bring the highest standards of institutional practice to the task. Thomas' professional experience will help to fuel growth in our business and his strong institutional investor network will help to diversify and expand our capital partner network. We are delighted to have him on the team and looking forward to now making accelerated progress in the German market".
The expansion into Germany builds on Avelios' recent success in the market, having closed a mezzanine finance transaction in Central Berlin during 2020. It also reflects strong origination capabilities and the team's significant track record in the market .  The Avelios Germany team will be located at Goetheplatz 1 in Frankfurt.
 ***
Thomas Fiebig ist neuer Geschäftsführer der Avelios Germany GmbH. Im April 2021 expandierte Avelios mit der Gründung der Avelios Germany GmbH in den deutschen Markt, um in Europas größter Volkswirtschaft präsent zu sein.
Avelios Germany, das von Thomas Fiebig geführt wird, ist die zweite operative Einheit innerhalb der Avelios-Gruppe und wird Anlegern in diesem großen europäischen Markt Assetmanagement- und Vermögensverwaltungsdienstleistungen mit dem Schwerpunkt auf Alternative Investments anbieten.
Thomas Fiebig verfügt über fast drei Jahrzehnte Erfahrung im Bereich Immobilien-/ und Infrastrukturinvestments und hat in dieser Anlageklasse Transaktionen im Wert von über 3 Mrd. EUR durchgeführt und verantwortet.
Thomas Fiebig war zuvor u.a. Geschäftsführer von Talanx Immobilien. Während dieser Zeit etablierte er einen neuen Geschäftsbereich, der Immobilien-Projektentwicklern Mezzanine-Finanzierungen zur Verfügung stellte. Zudem war er für das globale Immobilien-Investmentgeschäft verantwortlich. Er war auch Vorstandsmitglied von Talanx Investments.
Thomas Fiebig war in seiner Karriere außerdem in leitenden Positionen bei ING Real Estate, Union Investment und als Geschäftsführer einer BaFin-regulierten Kapitalverwaltungsgesellschaft mit Sitz in Hamburg tätig.
Duncan Souster, CEO von Avelios, kommentierte seine Ernennung wie folgt: "Wir freuen uns über unsere Expansion nach Deutschland, nachdem unsere Kunden weiterhin daran interessiert waren, eine dauerhafte Präsenz in diesem Markt aufzubauen. Thomas ist ideal geeignet, um unser Geschäft zu führen. Die Erfahrung von Thomas wird dazu beitragen, das Geschäftswachstum voranzutreiben und unser institutionelles Investoren-/ und Kapitalpartnernetzwerk zu diversifizieren und auszubauen".
***
Avelios Germany GmbH: Avelios is an independent investment advisor and asset manager focused European real estate, transportation and infrastructure assets. Our investment philosophy is defined by an emphasis on preserving capital while providing attractive risk adjusted returns to our investors and partners.
Thomas Fiebig can be contacted at [email protected] and + 49 173 72 77 023